It's amazing how after a the popularity and financial success of the De La Hoya-Mayweather fight, the up coming Cotto (29-0, 24 KOs)-Judah (34-4 25 KOs) fight can receive so little attention from the mainstream sports media. This fight is guaranteed to be ev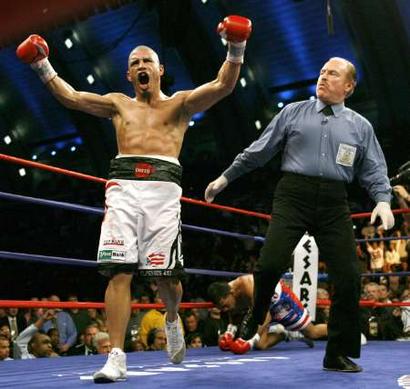 ery bit as exciting and entertaing as the bout between Golden Boy and Pretty Boy.

Defending champ, Puerto Rican Miguel Cotto (5'8'' 147lbs.), is a relentless, powerful body puncher who style revolves around attempting to puncture his opponents internal organs. From what I've read he has a great left hook and serious knockout potential--not from punches to the head but rather well placed shots to the liver. His main weakness is that his defense can be described as shaky at best.

Challenging Cotto for the title is 29 year old Zab Judah (5'7'' 146 3/4lbs) from Brooklyn. He draws many comparisons to Money Mayweather, and rightfully so. His hand speed is probably second only to Floyd and he may even exceed him in cockiness (who would have thought that was possible?). It was actually in his fight against Mayweather that he was suspended for hitting him way below the belt and then in the back of the head, inciting a brawl in t
he ring. Judah has tremendous athletic ability, but sometimes he seems like his own worst enemy.

Will Cotto's body shots take their toll and cause Judah to lower his hands in the later rounds opening him up to a potential knockout? Will Judah outbox Cotto with the technical skill he is capable of displaying? Or will his lack of discipline cause him to lose focus?

The only thing this fight will be lacking is 50 Cent--who I think we can all agree makes everything better. Still this fight has the makings of a classic for a true boxing fan and promises to be well worth the cost of the HBO pay-per-view. Saturday, 9 o'clock. Watch it.