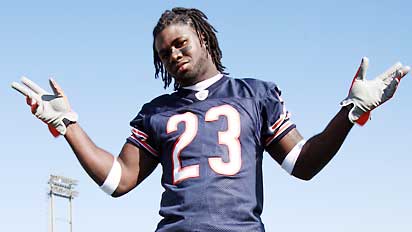 While watching the Cowboys pull off a miracle last night on Monday Night Football, I couldn't help but notice how eerily similar their season has been so far to the season that the Bears had last year.
Here's the Bears first six games compared to the Cowboys first five games.

2006 Bears
Week one: Green Bay: W 26-0
Week two: Detroit: W 34-7
Week three: Minnesota: W 19-16
Week four: Seattle: W 37-6
Week five: Buffalo: W 40-7
Week six: Arizona: W 24-23

2007 Cowboys
Week one: NY Giants: W 45-35
Week two: Miami: W 37-20
Week three: Chicago: W 34-10
Week four: St. Louis: W 35-7
Week five: Buffalo W 25-24

Each team had a quarterback who had been the backup the year before but was inserted into the starting lineup at the end of the year before losing their first playoff games. Each quarterback then started the next year on an absolute tear, leading their team to undefeated Septembers and earning NFC Offensive Player of the Month awards.

Each team killed everyone on their schedule except for one close battle with a divisional opponent. Both teams were considered possible flukes until they manhandled the previous year's NFC champion on Sunday Night Football.

Then once they started to get the respect of everyone around the league, the aformentioned quarterbacks turned the ball over six times on Monday Night Football against shitty teams on the road. However, each team somehow overcame these performances and were able to win by one point.

Obviously, these aren't completely identical teams. You can't compare the defenses because the Bears was so much better and you can't compare the quarterbacks because Romo is only allowed to be compared to Favre. Still, it's a little scary how similar they have been. My prediction for the rest of the Cowboys year: 13-3, just like the Bears last year. However, they will lose to the Bears 45-3 in the NFC Championship game two weeks before Chicago beats the Patriots in the Super Bowl.