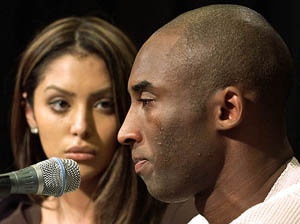 Today I was looking online for a place to hone my basketball skills this summer, in doing so, I ran across Kobe Bryant's summer camp. The camp costs $600 for 3 days, which isn't ridiculous in comparison to others. What is ridiculous is this:

Each camper will receive a team photo with Kobe and one signed personal autograph from Kobe.

No number eight jerseys will be signed

.
So, in case someone out there wasn't convinced that Kobe only changed his number to make money, that should change your mind. These people are paying $600 to be at the camp and he's making them pay an extra $80-100 for a brand new jersey, what a fucking douchebag. I say fuck it, bring the #8 jersey, what's the worst that can happen?? He takes it from you, cums in it, and
throws it in your face
?
Kobe Basketball Academy