Here's how this works. Buzzsaw and I are going to try to accurately predict each of the Lottery picks (the first thirteen picks) in the draft. Keep in mind that this is what I would do if I were the GM of each of these teams; this isn't necessarily what is being projected. We're going to bet on this but we haven't come up with anything good yet. I suggest that the loser has to anal bong a beer but I don't want to soil a perfectly good beer bong. Leave your suggestions in the comment box.

On to the picks:

1) Portland Trailblazers


Buzz- Greg Oden- This is too easy, you can't teach height (cliche #1) .. look at the other center prospects in this year's draft: Hawes, uhhh Sean Williams (I guess he's a center), Marc Gasol?, AND Aaron Gray. To be thorough, last year's top center prospects were Patrick O'Bryant, Mouhamad Sene, and Hilton Armstrong. The only thing I'm worried about is Portland's team chemistry as Oden's height will make him too easy to spot on the team's off-day bank robberies, but from all accounts Oden is an accomplished wheelman, which should endear him to the fellas.

Biglots- Greg Oden- Except for Bill Simmons, everyone is predicting that the Blazers take Oden. I have to agree with them simply because I see no logical scenario in which Oden doesn't average at least 20 points, 12 rebounds, and 2 blocks a game for the next fifteen years. However, Oden is still a fuck in my mind after helping to deliver one of the more painful losses any of my teams have ever received in the second round of last year's NCAA tournament, so I wouldn't mind if the Blazers passed on him.

2) Seattle Sonics


Buzz- Kevin Durant- Could the Sonics possibly pull a "Houston Texan's" and pass on Kevin Durant, the basketball equivalent to Reggie Bush?? No. The thing about Durant is that he's very long (cliche #2); he's basically Tracy McGrady in Chris Bosh's body (not to be confused with Tracy McGrady in Tracy McGrady's body, because that'd be two inches shorter). Durant will be able to step right in for Rashard Lewis as Seattle's #2 scoring option.

Biglots- Kevin Durant- Anyone suggesting that he should drop out of the top two because he can't bench press 185 is a complete dumbass. He has the potential to be a multiple MVP winner.

3) Atlanta Hawks


Buzz- Al Horford- I absolutely love the Hawks, for the record. This pick is not necessarily what I think they'll do, but I think regardless of the team that picks in the 3 spot, Horford will be taken (unless some Yi lover like the Lakers does something crazy). Horford is to girth what Durant is to length. Length may be impressive, but girth gets the job done (penis analogy #1). Sadly, the Hawks won't be the team receiving pleasure from Horford's body as they'll be trading this pick for either Garnett, Amare, or Gasol ... or else. Or else I'm going to cry.

Biglots- Al Horford- Continuing the trend of taking players that are exactly like the person they drafted in the year before, the Hawks take Horford. This team needs some luck though. It just seems as if nothing ever goes right for them. Let's just call it the curse of Jason Collier.

4) Memphis Grizzlies


Buzz- Mike Conley Jr.- This one was really tough, because I really don't feel that Conley should go this soon, and I'm pretty sure the Grizzlies will be trading which means their whole team will change. However, as the team is presently structured, the Grizz have to take Conley. Chuckie Atkins (32 yrs old) and Damon Stoudamire (100 yrs old) are their primary PG's, they DID take Kyle Lowery with their first pick last year, but they clearly will need depth at that position anyway. The only other real option seems to be Joakim Noah but there are reports from Memphis saying Rudy Gay has refused to play with Noah because he couldn't stop giggling when the two were introduced (also because Stromile Swift and Hakim Warrick are basically the same player .. high energy, defensive players).

Biglots- Corey Brewer- I was hoping to find someone ghetto as hell for Memphis to draft but this draft seems to be rather tame. Brewer may be similar to Gay but he is more of a 2 guard while Gay can play the 3. On a side not, everyone always says that the Utah Jazz is the most ridiculous name for a sports franchise considering jazz music is not played anywhere near Utah, however, when was the last time you saw a grizzly bear in Memphis?

5) Boston Celtics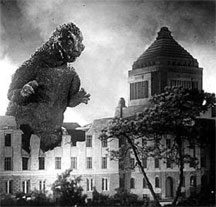 Buzz- Yi Jianlian- Boston will no doubt find that Yi's Asian persuasion is too strong to deny. The city of Boston has had quite the love affair with Asians lately, something I can totally understand. I think we've all gone through phases in which we become infatuated with women from other cultures, mine include Mexicans, Indian, and currently I'm going through a French-Canadian phase (Celine Dion is a cougar I'd love to tame); basically the same principle is true for cities.

Biglots- Yi Jianlian- I absolutely love Jianlian and am really hoping that he falls to the Bulls, however, I don't see that happening. I think Yi will be a really good player in a couple years but he's going to need some time to develop. Good thing he'll be in a place that has low key fans that are patient and understanding.

6) Milwaukee Bucks


Buzz- Joakim Noah- This may be a little surprising to some, as most have the Bucks getting either Wright or Green in this situation, but the Bucks have absolutley no interior defense with Villanueva and Bogut downlow. Noah, despite his homosexual tendencies, is a great defender with a motor (cliche #3).

Biglots- Mike Conley Jr.- The Bucks need a point guard who can distribute better than Mo Williams. However, Conley is an even bigger fuck than Oden because he completely buried Xavier in OT of the aforementioned NCAA tournament game.


7) Minnesota T-Wolves

Buzz- Spencer Hawes- Garnett is gone, the T-Wolves are going to be in complete rebuilding mode, and what better way to rebuild a franchise than by starting with a 7 ft white guy .. they always work out. Minnesota is going to have a lot of extra picks and this will be the only center available to them basically, I'm sure there is someone that thinks he has a chance to be good ... somewhere.

Biglots- Joakim Noah- This is more of a hopeful pick. Noah is a complete douchebag and I don't want him anywhere near the Bulls' roster. Plus he's just another big with no offense game so it would make zero sense for the Bulls to draft him but apparently if he's available they'll take him. Anyways, Noah would at least bring some energy to the Wolves which is something Garnett would love (if he's still around).


8) Charlotte Bobcats

Buzz- Brandan Wright- This might have been easier than picking Oden #1. For this pick I looked at the UNC roster, figured out who declared themselves eligible, and decided who was the best. Luckily for Charlotte Wright is still available because picking Reyshawn Terry might have been a stretch.

Biglots- Brandan Wright- The Bobcats love drafting players from successful colleges and Wright fits right in. He's very similar to Sean May but May could be headed out the door. In reality, it's the Bobcats so no one really cares who they take.
9) Chicago Bulls
Buzz-

Julian Wright

- The Bulls goal in this draft should be to find a PF or C
with at least one
discernible offensive move, something they have gone without since Eddy Curry left (being very generous). Julian Wright
still needs to develop as a shooter but he's a point forward type who
can dribble and pass very well for a player his size (hence a point
forward). When Tyrus Thomas and Ben Wallace are in the game at the same time, the Bulls are basically playing 3 on 5. Wright will be able to kick the ball out to Deng, Gordon, Hinrich, and Nocioni getting them easier looks. No one is talking about this so it's pretty much wrong.
Biglots-

Spencer Hawes

-
The Bulls desperately need low post scoring and Hawes is the best post player in the draft apparently. In my mind, this is a complete waste of a pick because Hawes is a marginal upgrade over P.J. Brown if at all. I'm hoping they reach and take Al Thornton who is an absolute beast, or trade for a veteran. Thornton won't happen because he's undersized and they won't trade for a veteran because they don't want to break up the core of the lineup. The window of opportunity is closing in the East.
Eventually, the Cavs are going to pick up a halfway
decent player to play alongside LeBron and once they do, it's going to be lights out for everyone else. This is the year that the Bulls have to make a run at it and Hawes is
not going to help that cause.
10)

Sacramento Kings
Buzz-

Jeff Green

- This is an extremely boring player and team ... I'm trying to trim this article.


Biglots-

Jeff Green

-
Green is projected to go higher than this but I think he's a little overrated. That's all I've got.

11)

Atlanta Hawks
Buzz-

Corey Brewer

- He's 6-8, he's a swingman, he's a Hawk. Actually I've
realized I've pretty much screwed myself dropping him this far, the Hawks would be forced to trade this pick, too many teams will want him.
Biglots-

Acie Law IV

-
Easiest pick in the draft besides the first two. The Hawks are supposedly ready to make the leap this year and Law is more ready than Crittenton. They desperately need a point
guard and if they take anyone else then they are even more incompetent then we thought. For comedy's sake though, let's hope they take Julian Wright and continue towards the dream of playing five small forwards at the exact same time.

12)

Philadelphia 76ers
Buzz-

Javaris Crittenton

- People seem to think that Thornton is the unanimous choice here, but Andre Miller is getting old, and there are talks that he's being traded. Crittenton is young and can learn under Miller.
Biglots-

Al Thornton

-
I look forward to Thornton viciously dunking over Hawes multiple times in the near future.
13)

New Orleans Hornets
Buzz-

Thaddeus Young

- His stock is rising as much as anyone's in the draft,
the Hornets need a
slasher to go along with Peja spot up shooting and West/Chandler down low. This might also be Thornton if available.
That's it, none of this will matter because this might be the most ridiculous draft ever in terms of trades. People are saying it's one of the deepest drafts which are leading teams to think it's more safe to trade their centerpieces and begin rebuilding.


Biglots-

Nick Young

-
The Hornets are still a pretty young team and could definitely make the
playoffs next year with a solid contribution from the 2. Anything is better than Peja at this point.
Alright, that's it, these are my picks. We will see what happens on Thursday night and hopefully there will be no pictures tagged of me on facebook with a beer bong sticking out of my ass.