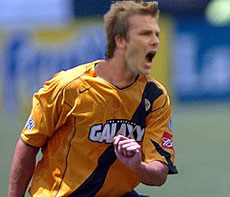 It looks like David Beckham may have taken notice of Billy Donovan and thought that that's how we do things in America.
"But while Beckham insists that his US move will not harm his chances of continuing his international comeback, his return and the reception he received from the 90,000-strong crowd at the new Wembley Stadium on Friday night have made him reconsider his desire to continue playing club football at a high level."
Apparently he believes that playing in the inferior MLS will hurt his chances of being called up to the English national team. Or maybe he came across this youtube clip.
Now, who knows how much credibility this story actually has but if Beckham is actually considering this then it is a complete joke. Why do people think that they can sign a contract and then just change their mind and expect to get out of it? It's ridiculous and completely unprofessional. No one forced Beckham to sign anything. He did it out of free will. That sucks for him that he doesn't think it's a good fit anymore but he's just going to have to suck it up. There is no chance in hell an average American can sign a contract and then just back out of it because it might not benefit them in the way that they want. I don't exactly feel bad for him either. If someone would like to pay me 125 million dollars to live in LA and play soccer I think I would accept.
I don't see this actually happening, however. There is no logical reason for the MLS to let him out of the contract. Just the other day I saw an ad for Columbus Crew tickets that said that anyone buying a ticket to the Galaxy game had to also buy tickets to four other Crew games. So not only will Beckham's appearance sell out one game, it will most likely sell out five games and there is no chance in hell the Crew would have sold out those other four. This doesn't even count the money the league will be getting from advertisers and TV due to his signing. The league is planning on building up its fan base by trying to grab the average American who is tuning in to watch Beckham play. Beckham's signing was a long term investment for the league and I believe they want to see how it will turn out. It may not work out but they at least want to give it a shot.