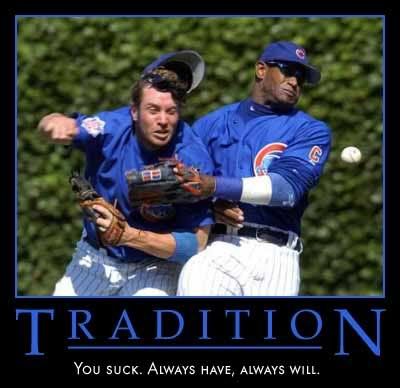 I believe former Cubs manager Lee Elia put it best after suffering yet another Cubs defeat: "Eighty-five percent of the fuckin' world is working. The other fifteen come out here. A fuckin' playground for the cocksuckers." I couldn't have said it any better myself. He was, of course, referring to the "bleacher bums" that make up Cubs fans. I have had enough experience with Cubs fans to know that Elia wasn't exaggerating in the least. The Cubs fans made their presence known this past Saturday in yet another classy act, littering the field of play to the point that the game had to be stopped. This came one day after the Zambrano-Barrett bitch fight in the clubhouse. Not only has this team not won anything in 98 years, but it also is just flat out embarrassing off the field as well.

So this begs the question, why are 95 percent of the Cubs fans complete idiots? Don't get me wrong, there are legitimate fans of this team out there that do it the right way. Not every Cubs fan says "wait 'til next year" and "this is our year" whether they believe it or not just because "that's what cub's fans say". However, for the most part people are Cubs fans because of Wrigley Field. People don't say "let's go to the Cubs game", they say "let's go to Wrigley." Think about that for a second. Can you name any other franchise that is completely dependant upon its stadium?

The fact that you root for a team that always loses does not necessarily make you a better fan than anyone else. No one is impressed that the Cubs have high attendance figures. Especially when half of those people are drunken idiots or assholes from Iowa. Just because you yell "left field sucks" in response to the dumbasses in the left field bleachers yelling "right field sucks" (unbelievably, this actually happens) does not make you a good fan, nor is it clever. Cubs' fans will tell anyone that will listen to them that White Sox fans are "trash" and "classless". However, for the second time in less than a year (I think we all remember Pierzynski's go ahead home run in the ninth last year) the action at Wrigley Field had to be stopped because "the bleacher bums" decided to throw anything they could get their hands on onto the field. Sounds pretty classy to me. If the tide hasn't already shifted into making Chicago a White Sox town again, it certainly is on its way.

I'll leave you with an actual quote from a Cubs fan that I overhead over the weekend which completely proves my point. This is directed towards a Cardinals fan. "At least I don't cheer for a team whose reliever's get DUI's and die." Yea.