On Saturday Night, shit will go down, as Antonio "Tijuana Tornado" Margarito and Paul "The Punisher" Williams will represent their respective races in a battle for top minority group in the United States. African-American's have had a free ride for too long, these Mexican-Americans have been scrapping and clawing their way across the border for years, and finally have a chance to prove their worth. There has been a lot of talk about "the US being Spanish speaking in 100 years," but that's all talk, if the Mexicans want a shot at the whites, they're gonna have to go through Paul Williams.
Beyond its racial implications, this fight marks the start of the unification of the Welterweight division. Margarito, "the Most Feared Man" in boxing, holds the WBO crown and will be fighting "the Most Feared Mandatory" in boxing, Paul Williams. He is a mandatory opponent for Margarito in his defense of the Welterweight title. Margarito has been ducked numerous times by top welterweights, namely Floyd Mayweather (now a super welterweight titleholder). Pretty Boy is once again accepting a lesser fight in Ricky Hatton, rather than taking on more worthy opponents in Mosley, Cotto, or the winner of this fight.
This will be the biggest match of each fighter's career. Margarito's record stands at 33-4 with 24 KO's; his biggest fight to date was against, then undefeated, Kermit Cintron who now holds the IBF Welterweight title. He knocked Cintron down four times, knocking him out in the 5th round. His most memorable fight, however, was probably his bout against an overmatched Sebastian Andres Lujan; Margarito's KO nearly took his ear off, the ear was dangling off his head when the fight was called … in conclusion, Margarito is a badass.
Williams is also a badass, however, he has a longer reach (9-inch advantage over Margarito!) than most heavyweights but doesn't fight like a bitch, like most would with that advantage. He hasn't fought the same quality of competition as Margarito, but his wins have been impressive with a record of 32-0 with 24 KO's. These two fighters had a sparring session a couple years ago, the results of which are disputed. Williams says he cut Margarito, but Margarito denies this … I believe Williams. As for actual fights, one of Williams toughest opponents, Walter Matthysse (26-1, 25 KO's... impressive), will actually be fighting Kermit Cintron on this undercard which will give us a better idea of who will when the main event. If you are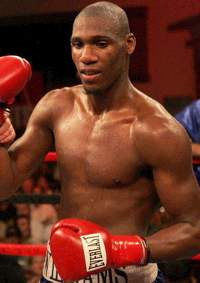 looking to bet on this fight, I'd say the best option is to see how well Matthysse does against Cintron, if the fight is close, or Matthysse wins, Williams is a great bet.
I can't wait for that fight, so I'm taking the underdog Williams. He's got the right size and style to take Margarito out of his comfort zone, the question is whether he'll be able to fight the same brawling style against Margarito, his toughest opponent. Margarito has a tendency to get cut easily, which is an especially bad thing considering his style leaves his face wide opened. He was also recently cut above his eye, which might be his downfall if it's opened in the early rounds. This should be an all out war, but I think Williams will be able to withstand Margarito's constant pressure while mutilating Margarito's eye, so bad that it ends in an 8th Round TKO… mark it down.
You Thought I was kidding about the race war