A few updates on the first day of the British Open from the little I've seen:
As I'm writing this, Sergio Garcia has the lead at 5 under through 16. No word on what kind of gay pants he's wearing though.
The story of the day, as it so often is, seems to be John Daly. After an eagle at 11 gave him a share of the lead, he went double, par, triple, bogey, bogey, par, bogey to f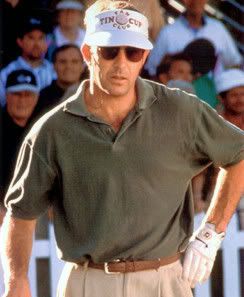 inish +3 which is currently good for 91st. He left after his round without talking to reporters. Rumor has it he actually didn't give a shit about his round, he was just pissed because he found out there isn't a single Hooter's in Scotland.
All the talk about Tiger has nothing to do with the solid two under 69 he shot. Everyone is talking about a controversial drop he took on the 10th hole. I'm not going to subject you to the boring details; you can read those on ESPN.com or whatever. I really don't understand why this is so controversial. The scoring official examined the situation and made ruling before Tiger even made it up to his ball. I would chalk this up to overzealous British reporters and being the first day of the tournament.
My favorite golfer not pushing 350 lbs., Padraig Harrington, also finished with a 69. The Irish in general are making a good showing on the first day. Paul McGilvey stands alone in second place at -4 and Rory McIlroy is tied for 3rd at -3. Speaking of McIlroy, as ESPN blogger Jason Sobel points out, his name looks remarkably similar to Kevin Costner's character Roy McAvoy in Tin Cup. Unfortunately there is no water on eighteen at Carnoustie.
Oh yeah, I almost forgot, BigLots' pick to win it all, Chih-Bing Lam, is already six over after 11, good for 132nd. Good pick.